Einstein, the African grey parrot, became a star after a winning performance on the Animal Planet game show Pet Star.
Einstein lives up to the name and will prove to you that she is definitely not bird-brained! She has a vocabulary of more than 200 words and sounds.
She can perform nearly half on a cue from her trainer, Stephanie White. She can also impersonate a spaceship, a monkey and even a skunk.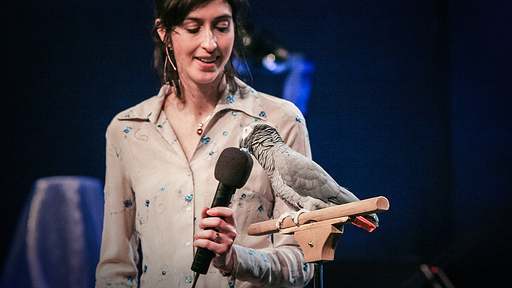 Einstein is part of the Knoxville Zoo's outreach program, helping educate thousands of visitors about the natural world every year.
"Einstein's trainer … estimates it can make 200 sounds (including words). The bird knows about 70 on cue and the others it may just do on her own. White says Einstein babbles all day." — CBSNews.com
There is another African grey parrot who is a healthy competition for Einstein and they share the same name. But they have respect for each other and have their individual special traits.
Stephanie White appeared with Einstein on a TED Talk show.                                            https://www.ted.com/talks/einstein_the_parrot_talks_and_squawks
Comments